Control MeisterCM-2200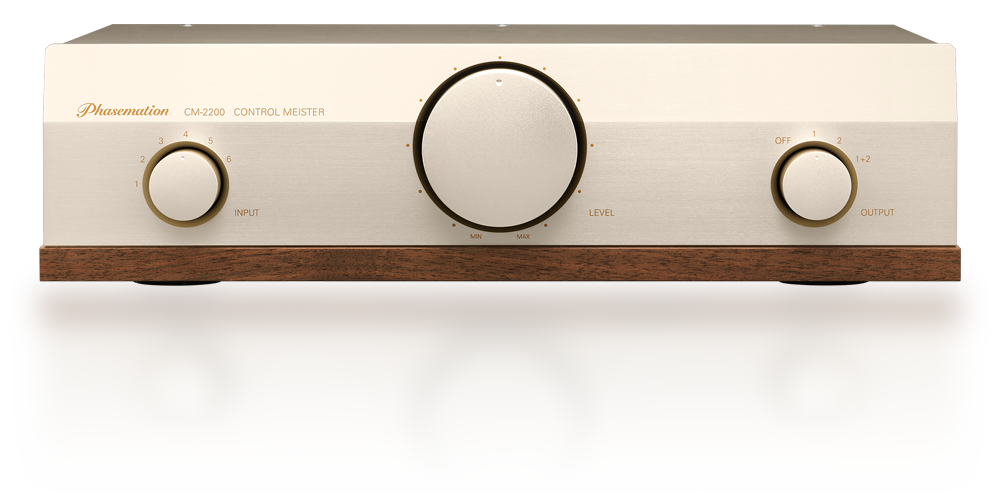 Recieved Prizes
Ongen PublishingAudio Excellence Award 2023 Bronze Award
SEIBUNDO SHINKOSHA PublishingMJ Technology of the Year Separate amplifier Components Honorable Mention
ONGAKU NO TOMO SHA COTP. STEREO magazineBest Buy Components 2022 Phono equalizer over ¥1200,000 2nd Year Compo
Product Outline and Concept
Several years ago we released the highest grade hybrid passive attenuator [control meister CM-2000] that does not contain an active circuit and is distinct from the previous preamplifiers.
We adopted an ideal volume adjustment circuit that acquired a patent based on a new idea in the volume adjustment mechanism which can be said to be the key for an audio playback. Furthermore, we have newly developed an attenuator transformer that is also compatible with balanced input/output, and have achieved an even sharper, more detailed, and a more expansive sound playing field than before.
By re-examining the attenuator transformer, we are now releasing the [Control Meister CM- 2200], the world's only passive attenuator with a +6dB amplification function that can be used with ease in all situations, including high volume playback coming from modern low-efficiency speakers and low-gain amplifiers. The CM-2200 is the only passive attenuator with a +6dB amplification function.
New Functions for CM-2200
Added a gain changing switch (0/+6db)
The balanced specification attenuator transformer winding developed for the CM-2000 has been revised to have a gain of +6dB, taking advantage of the fact that it is a transformer. In this model, a gain changing (0/+6dB) switch has been added to the rear panel, and the variable range of the attenuator is 0dB (0dB to -70dB) or +6dB (+6 dB to -64dB) can be selected. The transformer winding structure has been re-examined to ensure wide-range frequency response and impedance characteristics regardless of which gain is selected so that the CM-2200's high and clear sound image localization can be enjoyed at either gain.
Main features carried over from CM-2000
Adoption of newly developed high-performance core materials and winding materials
We reviewed the 0.2 mm thick permalloy material that was used previously and newly developed an "extremely thin (0.1mm) super alloy material." In addition, for the winding material, rather than the high pure copper wires that were used previously, we specially ordered PC triple C polyurethane wires which are optimal wires for audios. In combination with a large core shape, we reached an excellent characteristic of a high low–pass linearity and a delicate and calm high frequency and achieved an expression of a vast space.
Development of optimum winding specified for balance
We reviewed the attenuator transformer winding specifications from the beginning and developed an attenuator transformer for balancing in which two attenuator windings of the hot and cold sides of the balance connection are wound in one transformer. By utilizing the fact that there are two more attenuator windings, it is also possible to create a signal (at the cold side) inside the transformer for the unbalanced input and to support a complete balanced output. Also, a high common mode rejection ratio (CMRR) was also obtained with the two windings that support the balance.
Since the transformer for a balanced sound volume adjustment circuit was composed with one CH1, excellent frequency characteristics and phase characteristics were actualized in a wide band, the phase distortion in the audible band was reduced and most important was that the freshness was high and a clear constant sound image was brought into effect.
Eliminate external induction hums and unnecessary vibrations
For external induction hums, a chassis base with copper plating on a solid 2 mm thick steel plate and a case cover with an induction hum shield is arranged. In addition, the magnetic shield material located near the transformer has a double structure.
The attenuator transformer is floated from the main unit with a high damping rubber material and it prevents external vibrations from propagating. The front panel adopts a 20 mm thick slanted aluminum panel that is equivalent to the control amplifier CA-1000. By adding a walnut material base under the exterior case, unnecessary vibration is effectively eliminated by combining different kinds of materials and brings about playback sounds with a good S/N ratio.
Use of high quality parts
We adopted rhodium plated terminals made by Furutech which are reputed for having high-quality and high sound quality on the input and output terminals.
In addition, the foot adopts TAOC's high carbon cast iron insulators which contribute to increasing the resolution of the sounds.
Main Specifications
Form
Hybrid Passive Attenuator
Input Impedance
47kΩ or more
Channel Separation
100dB or more (20 ~ 20kHz)
Frequency Characteristic
10 ~ 100kHz (+0,-3dB)
Output Impedance
250Ω or less
Input Terminal
RCA×3、XLR×3
Rhodium Platted Terminal by Furutech
Output Terminal
RCA×2、XLR×2
Rhodium Platted Terminal by Furutech
Maximum External Dimensions (mm)
434 (W) ×117 (H) × 289 (D)
Mass
10kg